Why book with us?

Buy securely online
We care about your safety

E-ticket Available
Present E-ticket for Boarding

Dedicated support
Great service in 3 languages

Advance Booking
3 months in advance
I. HOW TO BOOK YOUR TRAIN TICKETS:
1. You can book your train tickets in Vietnam quickly and simply by visiting our website <https://vietnamrailwaycorp.com/> . Search for train routes between any two cities for your travel dates.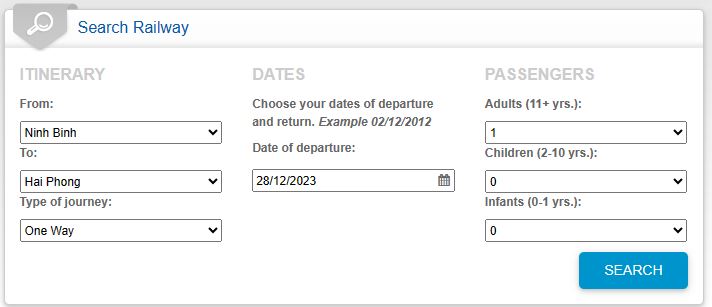 2. Select your route
After search, the results for your itinerary will be displayed.
You can find the train services operated by Vietnam Railways or the private railway companies available for your itinerary and select the most convenient option.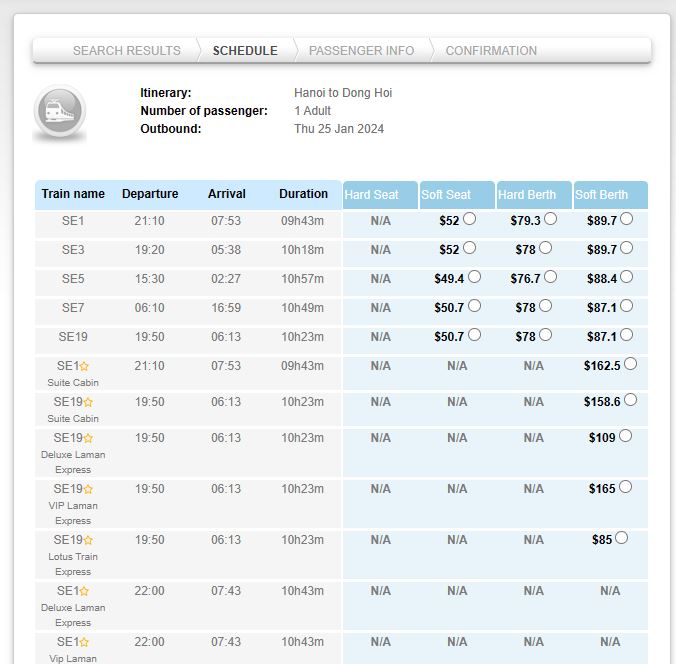 At this Step, you will find the available fares. Trains in Vietnam offer various types of fares, depending if the service consists of sleeper or seating passenger cars.
Hard seats are the cheapest among the 4 types of seats available on trains in Vietnam, arranged in a 2+2 row configuration. All seats are window seats for good views
Soft seat are the second cheapest type after hard seat. The soft seat has four seats arrangedin 2+2 row configuration. The seats are covered with cushions and fabric. There are power sockets under each seat
Sleeper 6-Berth (Compartments for 1-6 passengers with hard bed) arranged in 3 levels of bunks (Upper, Middle and Lower). People who are afraid of narrow spaces should not choose this hard berth because the distance between the top bed and the roof is quite narrow.
Soft bed including Sleeper 4-berth and Sleeper 2 berth:
Sleeper 4-Berth (Compartments for 1-4 passengers with soft bed) arranged in 2 levels of bunks (Upper and Lower).
Sleeper 2-Berth (Compartments for 1-2 passengers with soft bed) arranged in 1 level of bunks. The ticket price of this type is the highest among all ticket classes.
3. Fill in the passenger and contact details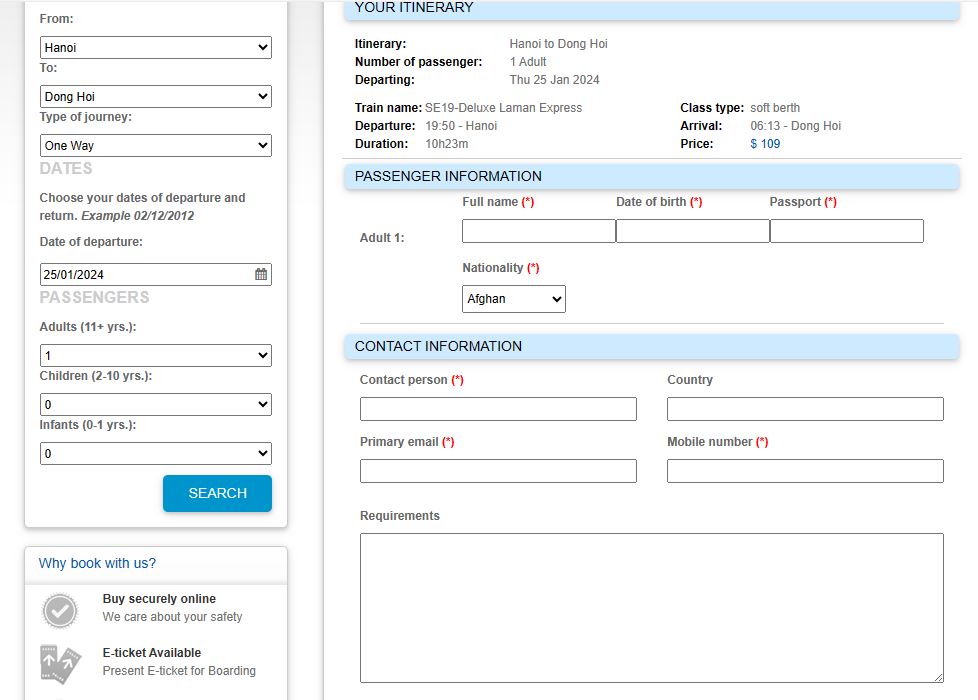 Please provide the passenger information and the contact details of the person responsible for booking so that we can send the booking confirmation and/or ticket.
4. Recheck all information before payment
After completing passenger information, you will be forwarded to the Review page for you to check information including itinerary, passenger information and price before moving to the payment step.
Before you proceed to payment, you must read and accept the terms and conditions of booking.
5. Complete the payment
If you choose online payment by credit card, you will be redirected to OnePAY Payment Gateway to pay us online with Visa, MasterCard, American Express, and JCB Card with following steps:
All of your card information are processed through SSL protocol with international card security standard. Your card information will not be stored at the system (Merchant).
The payment gateway interface will appear as below for you to select the card type you are going to pay.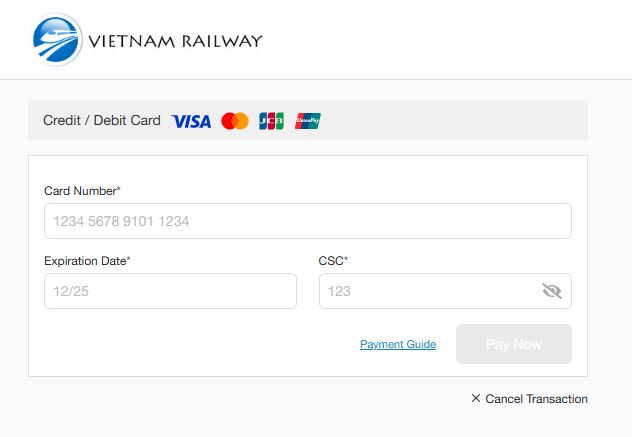 Card Information Input
To make the payment, you will input the following card information:
Card Number
Expiry Date
CSC - Card Security Code (see below)
Address Informaiton (Card holder's address which has been registered with the Issuer Bank):
Click PAY NOW.
Online payment password (If you have enrolled 3D- Secure Program for your card with the Issuer Bank namely Verified by Visa for Visa card, MasterCard Secure Code for MasterCard, and J- Secure for JCB Card ).
Transaction Result
You will be asked to wait for some seconds for the transaction result from OnePAY payment gateway. Then, we will send you an email to inform you the Order status and the transaction result.
Note
In some cases, your transaction may be not successful due to:
Incorrect card information
Not enough credit balance (daily or monthly)
Your card has not been activated for online payment. You should contact the Issuer Bank for the card activation.
Your card have been enroll 3D- Secure Program but you do not input or input incorrect the online password. Please contact your issuer bank.
a. In case you have received the result: Can't not verify your card information. Please try again or contact to our email <reservations@vietnamrailwaycorp.com> for more detail information.
b. In case you input the correct card information but you did not receive the transaction result from the payment gateway or from us. Please do not try to make other payments. Contact us through <reservations@vietnamrailwaycorp.com> to get the transaction result and confirmation of the Order.
6. Get the E-ticket/Ticket voucher
Once your payment is complete, your reservation will be processed.
In the following 24 hours you will receive the itinerary and booking confirmation by email. E-ticket/Ticket voucher will be sent to the registering email at least 5 days prior departure date.
II. CHECK IN AT THE TRAIN STATION
Before Arrival
Please ensure your paper ticket (or e-ticket) and passport is with you to avoid the refusal and make sure that you'll be arrived at the train station at least 30 minutes (1 hour during high seasons) before departure. For your information, Vietnam Railways newly implement the automatic ticket scan gate at Hanoi train station and Saigon train station for passengers' convenience and safety. Other train stations are remained as staffs check at the boarding gates.
At the train station
Please take care of your belongings at the train station and on the train too because there are some pick-pockets around.
If you cant find your train, your cabin or your seats, please ask for help from staffs (dressed in uniform of Vietnam Railways) as soon as possible by showing them your tickets.
If you have not purchased your ticket yet and want to purchase at the train station, please go to ticket office inside the train station. DO NOT buy from someone outside, it's scam or fake ticket, you will not be allowed to get on the train.
On the train
Your ticket should be kept until your trip is finished and you get out of the train station because during the trip, Vietnam Railways staff will check on your ticket to ensure you stay in correct cabin, seat or berth.
Toilets are designed at 2 sides of each train, please ask Vietnam Railways staff if you cant find it.
Free foods or drinks should be provided to your cabin by the staff of the train company you book with. Kindly contact/ask the staff served on your cabin before purchasing anything.
On the train, there's one cabin selling foods (noodle, cakes,snack...) and drinks. This cabin is serving all kind of passengers (passengers from tourirst cabins and non-tourist cabins) and you're required to pay by yourself. Please check the price before paying.
For your hygiene and food safety reasons, not many kind foods are served on the train. We apologize for any inconvenience caused.
Your belongings should be put under your berth or your seat. Always remember to keep an eye on it to avoid missing.
Arrival
When your train is arrived the destination, please do not forget to take all belongings with ticket on hand to get out of the train.
We hope you enjoy our information and please email to reservations@vietnamrailwaycorp.com for any request or concern in regards to your booking with us, about Vietnam Railways, weather, transports...or quick advice before purchasing our product to ensure you have a memorable trip.